Sale price
$58.00 USD
Regular price
$105.00 USD
Unit price
per
Save
Sold out
People are viewing this right now
Share
View full details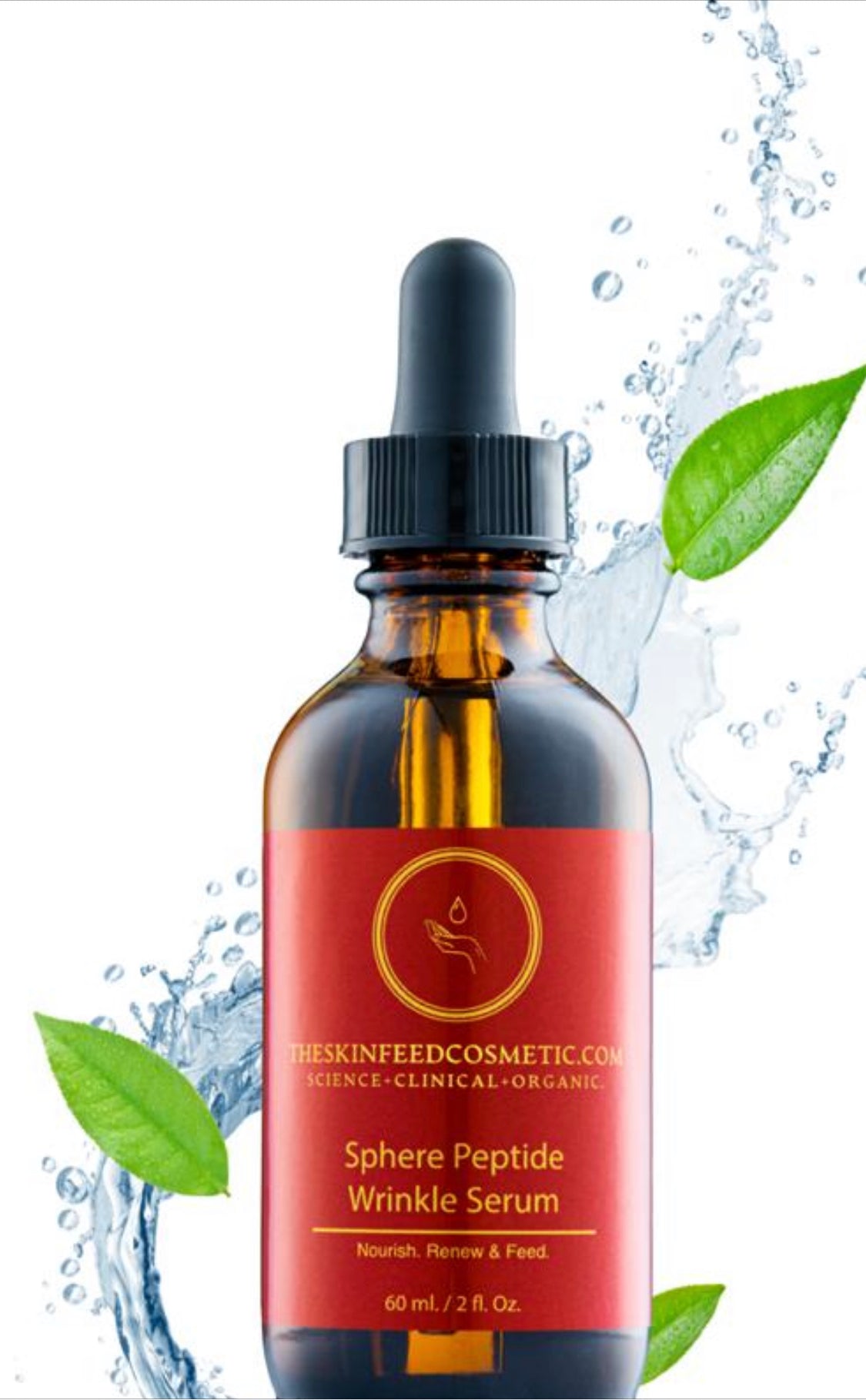 Sphere Peptide Wrinkle Serum, the revolutionary anti-aging solution that can help you achieve smoother, younger-looking skin. Packed with powerful peptides and other natural ingredients, Sphere Peptide Wrinkle Serum is designed to target the signs of aging and provide visible results. Say goodbye to wrinkles and hello to radiant, youthful skin with Sphere Peptide Wrinkle Serum!
Why Choose Sphere Peptide Wrinkle Serum for Your Skincare Routine?
Advanced Peptide Technology: Sphere Peptide Wrinkle Serum contains a cutting-edge blend of peptides that work synergistically to promote collagen production, improve skin elasticity, and reduce the appearance of wrinkles. These powerful peptides help to rejuvenate the skin from within, resulting in a firmer, plumper, and more youthful complexion.

Potent Antioxidants: Sphere Peptide Wrinkle Serum is enriched with antioxidants such as Vitamin C and Vitamin E, which help to neutralize harmful free radicals and protect the skin from environmental damage. These antioxidants also help to brighten the complexion, reduce hyperpigmentation, and even out skin tone, leaving your skin looking radiant and healthy.

Hydrating and Nourishing Ingredients: Sphere Peptide Wrinkle Serum is formulated with moisturizing and nourishing ingredients like hyaluronic acid, aloe vera, and jojoba oil, which help to replenish and retain moisture in the skin, keeping it hydrated, plump, and supple. These ingredients also provide essential nutrients to the skin, supporting its natural healing and renewal process.

Lightweight and Fast-Absorbing: Sphere Peptide Wrinkle Serum has a lightweight, non-greasy texture that quickly absorbs into the skin, making it ideal for use under makeup or as a part of your nighttime skincare routine. It doesn't leave a heavy residue and allows for easy layering with other skincare products.

Visible Results: With regular use, Sphere Peptide Wrinkle Serum can help to reduce the appearance of fine lines and wrinkles, improve skin texture and tone, and give you a smoother, more youthful complexion. It is suitable for all skin types and can be used by both men and women.
Incorporating Sphere Peptide Wrinkle Serum into your daily skincare routine is easy. Simply cleanse and tone your skin, then apply a small amount of the serum onto your face and neck, avoiding the eye area. Gently massage it into your skin using upward and outward motions until fully absorbed. For best results, use twice daily, in the morning and at night, and follow with your favorite moisturizer.
Don't let wrinkles and fine lines hold you back from looking and feeling your best. Experience the rejuvenating power of Sphere Peptide Wrinkle Serum and unlock the secret to youthful, radiant skin. Say hello to a more confident, vibrant you with Sphere Peptide Wrinkle Serum, your key to ageless beauty. Order now and start your journey to younger-looking skin.
A weekly Selfcare Treatment routine the Skinfeed Sphere Peptide  seal and heal the skins natural moisture from environmental aggressors in its true form
NOURISH+ RENEW+ FEED.
INGREDIENTS
AQUA,PROPANEDIOL. ACETYL HEXAPEPTIDE-8,PALMITOYL PENTAPEPTIDE,ALOE BARBADENSIS(VERA)LEAF JUICE,MATRICARIA RECUTITA(chamomile)flower extract,olea europaea(olive)leaf extract,camellia sinensis(green tea)extract,cellulose gum,citrus aurantium dulcis(orange)oil,Phenoxyethanol,,ethyylhexyl ,glycerin=CERTIFIED ORGANIC
 MADE IN CANADA
A SYNERGISTIC ORGANIC SKINCARE BRAND.
WE ARE THE ARCHITECT OF FEEDING YOUR SKIN.